My writings revolve around mystery—what we do not or cannot know—but perhaps can find out.
NOVELS
I turned to the novel in part because I started out as an actor and later wrote and performed character monologues. All my novels are informational because we live in a world of interpenetrating fields, facts, and frequencies that inform characters' lives as much as their psychology. The narrative form also let me expand the possibilities for a delivery system of ideas.
Click on the links below to read the first chapters of my novels and/or purchase them from Club Lighthouse Publishing; Amazon (in paper and all e-book formats); Barnes & Noble; iBookstore; and other online booksellers (e-formats only).
Note: Author and publisher get better returns when readers purchase directly from Club Lighthouse Publishing.
THE SECRET INVENTION
A fast-moving futurist thriller revolving around the predicament of the Adare twins—a glamorous and successful poet caught up in life-threatening conspiratorial crosshairs because of her brother's secret world-changing invention, which will render oil companies, nuclear power, and public utilities obsolete.
"A celebrity poet is thrust into intrigue, danger, and romance when her inventor brother creates a revolutionary power source that could solve the world's energy problems. It's technically science fiction, after all—because Adeena's brilliant, reclusive twin brother, Jeremy (imagine Andy Warhol as a humanitarian scientist), has just perfected "the Glass Engine," a revolutionary, new free-energy source based on lasers and nanoparticles… The busy, fast-paced narrative serves largely as a vehicle for… [a] brisk… mix of New York City glitterati, literati, technocrati, and subatomic nuclei…"
– Kirkus Reviews
RED FOG
A young writer researching a book about how New York City's underground sexual history was transformed by the telegraph and transatlantic cable, a forensic criminologist who teaches at the John Jay College of Criminal Justice and a ninety-three-year-old former courtesan with a secret past resolve a forgotten murder and the mysteries of sex and death.
"The book explores the seamy underbelly of society, which can certainly capture the imagination… unique, well-crafted characters… A weighty meditation on the past, sexuality, and criminality…"
– Kirkus Reviews
BRING ON THE PHANTOMS
A mind-blowing, information-packed conspiracy/thriller that revolves around the predicament of a blackmailed NJ Governor, a glamorous and witty transsexual cabaret star, and an unrelenting investigative reporter who connects the dots that explode the secrets and mysteries behind 9/11 and sexual politics. Don't you think it's time to find out the real inside story?
"This is an interesting and topical political thriller, and I enjoyed its hardboiled qualities."
– Jonathan Galassi, President and Publisher, Farrar, Straus & Giroux
NONFICTION—TEXTS & ESSAYS
Writing essays are especially challenging because they require structural ingenuity. Mine are rigorous, diverse, probing, and eclectic so as to appeal to the general reader as well as students and specialists. My goal has been to create unique collections of subjects that have not been treated elsewhere in tandem.
WRITING IN MOTION: Body–Language–Technology
Writing in Motion: Body—Language—Technology is a collection of essays and texts, published by Wesleyan University Press (2003), foreword by Deborah Jowitt.
Contents include: Writings on the Digital Body; Transmedia; The Invention of the Internet; the Future of Machine; Julie Taymor's production of Stravinsky's Oedipus Rex; Maurice Blanchot and Jackie O.; Joseph Cornell; Dreams and Collage; The Body Reflexive, and more.
Pages 1-88 can be read on Google Books.
"WRITING IN MOTION makes a significant contribution to both the artistic and critical investigation of the relationship between dancing and writing that has been so provocative in recent years."
– Peggy Phelan, The Ann O'Day Maples Chair in the Arts, Stanford University
UNCOLLECTED ESSAYS
I am seeking to publish these, along with other in-progress essays, as a separate volume: "Orbiting Andy Warhol's Silver Factory and Other Mind-Bending Experiences: War, Sex & 9/11."
Click on the images below to read excerpts or full versions of published essays that have appeared in literary magazines and other publications.
This new collection also includes: Mirror of the Mind: Internet, Cyberocularity and Digital Otherness; daguerreotypes and early photography; Outsider Art; The Dancing Philosopher on Nietzsche and his heirs; Forgotten Masterpiece: Miss MacIntosh, My Darling about Marguerite Young's extraordinary surrealist novel; Trans-Sex and the Facticity of Flesh; Talk Radio, Audiophilia & 9/11; Disturbing Beauty: The Prinzhorn Collection at the Drawing Center; Time of Reckoning: The Demise of Electoral Politics and 9/11; Dancing the Digital Body: Movement as Information, and more.
CONVERGENCE
An infographics text explores quantum ideas about perspective through the digital convergence of word and image superposed against a reflection of the history of technology and the emergence of e-publishing.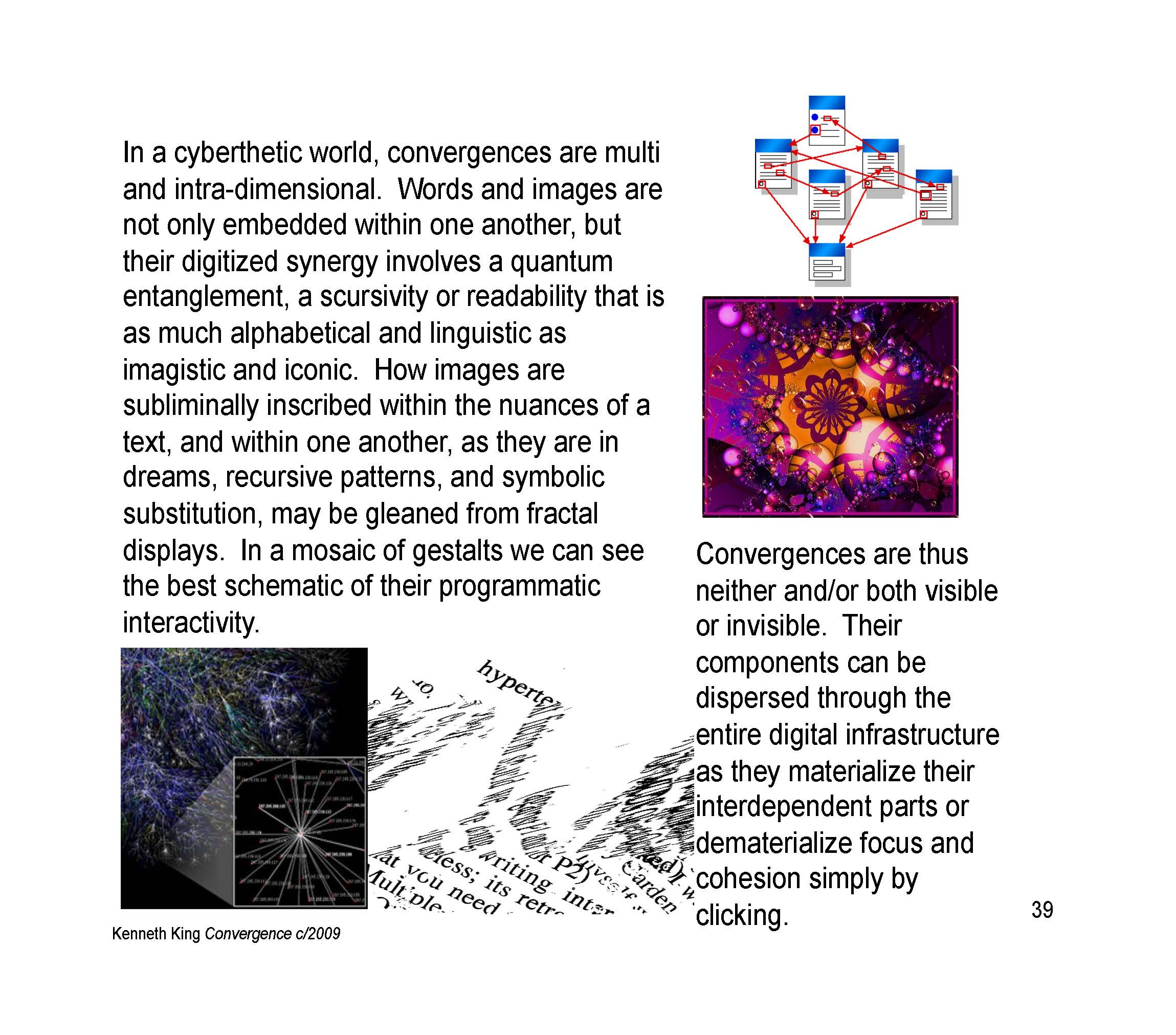 PUBLICATIONS
My writings have also appeared in The Paris Review, The Chicago Review, The Antioch Review, /nor (New Ohio Review), Topoi: An International Review of Philosophy, Art & Cinema, Shantih: The Literature of Soho, Hotel Amerika, Rio Grande Review, Movement Research Performance Journal, PAJ: A Journal of Performance and Art, Semiotext(e), Film Culture, Soho Weekly News, Dance Magazine, File, eddy, Gay and Lesbian Journal Worldwide, Ballet Review, Panache; and in the anthologies Merce Cunningham: Dancing in Space and Time, The Young American Writers, The New American Arts, Text-Sound Texts, Footnotes: Six Choreographers Inscribe the Page, Further Steps: Fifteen Choreographers on Modern Dance, Further Steps 2: Fourteen Choreographers on What's the R.A.G.E. in Modern Dance, and The New American Cinema.